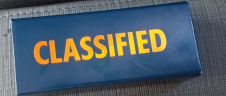 Here is a box of chocolates from Classified, the sort-of-secret restaurant at Newark Airport for those who fly frequently on United Airlines.
The restaurant is mentioned here (New York Times) and here (Business Insider)  and here (Yelp).  The official web site is here.
By now the secret location is all over the Internet, so I will tell you — it is tucked away in the back of the Saison steak house in Terminal C.  You make a reservation at Classified using the web site, and then you receive an email revealing the location (which as I say is now all over the Internet anyway).  (The concept sort of reminds me of Club 33 at Disneyland.)
Every restaurant and bar in Terminal C is run by a company called OTG, and OTG absolutely loves iPads.  At any of these restaurants and bars you order your food or drink on the iPad that rests prominently on an easel on the table in front of you.  Classified is no exception.
The Classified restaurant is exclusive, that's for sure.  You get a 20% discount if you have a United Explorer or Club card, which takes a bit of the sting out of the prices in the restaurant.
If you are passing through Newark's Terminal C, and want a bit of a treat, consider grabbing a drink or a meal at Classified.