Right on schedule, the National Institute of Industrial Property of Argentina ("INPI-AR") has indeed today joined the DAS system. INPI-AR is now operating as an Accessing Office in DAS with respect to patents and utility models and industrial designs. Here is an excerpt from an exemplary Certificate of Availability from DAS showing availability of a design application: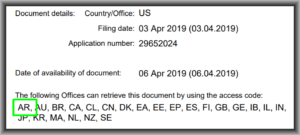 Readers will recall that I blogged about this on August 19, 2019.
This welcome development brings the number of participating DAS Offices as of October 1, 2019 to twenty-four.