Over the past year or so I have been making baby steps toward "cutting the cord", which in my case means maybe some day discontinuing service from DirecTV. (For others, "cord cutting" might mean discontinuing television service from Comcast or Dish or Time-Warner.)  In past blog articles I have written about the best media stick to use when traveling and over-the-top service from HBO.  For my household it was a big step to drop the HBO service from DirecTV and to use HBO Now instead.
But there is a category of television reception that I have found to be harder to tackle, namely the reception of "local" network broadcast stations.  Where I live in the mountains of Colorado there are precisely no broadcast television stations.  For many, many years my household has been paying DirecTV to provide "local" television stations, by which I mean the Denver television stations.  I can't receive the Denver stations at my home, because a mountain range blocks the signal.  Some of my neighbors pay Comcast cable to provide those same "local" television stations to them.  The point is that a would-be cord-cutter who lives in a place with few or no broadcast television signals faces the question what to do about picking up network broadcast stations.
The usual cord-cutting approach for most households is to use an antenna to receive over-the-air television signals.  But as I say, that approach doesn't work where I live in the mountains of Colorado.  I've stumbled upon a new approach that may finally permit discontinuing all DirecTV service.
The new approach is Tablo.  Tablo is a box that connects to a television antenna and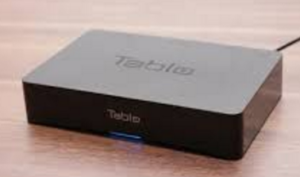 receives broadcast television signals.  It permits streaming live programming over the internet to wherever I happen to be.  It permits recording programs and watching them later.  It permits "season passes", namely setting up programming instructions to record all episodes of a series.
What I've done is install the Tablo in a friend's home in the suburbs of Denver, Colorado.  The Tablo is thus centrally located among dozens of television broadcast antennas that are not very far away.  So the Tablo is able to pick up some forty television channels (of which eight are actually of interest).  The Tablo connects to the internet.  From my home in the mountains (where I have a nice fast internet connection) I can click on an app to instruct the Tablo to stream programming to me.  I can select any of the forty channels to watch live.  I can record season passes of series and I can watch recorded episodes of those series.
One of the fun things about this is that I can actually do this from anywhere that is connected to the Internet.  So for example with my Amazon Fire TV stick I can be in a hotel and watch a recorded episode from the Tablo.  Or I can be sitting in a waiting room in a dentist's office and watch live programming on my smart phone, streamed from the Tablo.
Tablos come in two varieties — a "two-tuner" version and a "four-tuner" version.  This sort of means how many distinct programs can be recorded simultaneously.  Except that each "tuner" is actually a signal processing channel that might get put to use for inbound or outbound traffic.  If I am streaming content to my home at a given moment, this uses up one "tuner" and then there would only be three tuners left for recording of programs.
The Tablo incurs a one-time cost to purchase, and incurs a recurring cost for the program guide ($5 per month or $50 per year or $150 for a lifetime subscription).  The one-time cost comes in parts — maybe $260 for the Tablo, another $80 for the necessary external hard drive, and $10-40 for a VHF/UHF antenna.  In addition, for large-screen viewing you would need to buy (or might already own) a compatible media player or media stick (for example the Fire TV stick) for each television that is to be connected to the Tablo.
Have you successfully "cut the cord" yourself?  Have you used a Tablo or other cord-cutting DVR solution?  If so, please post a comment about it.