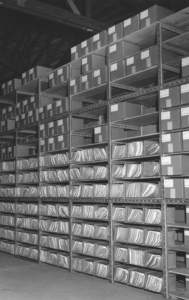 In the EFS-Web listserv, a practitioner posts this question:
We have decided to go paperless for the future and to destroy all of our archived paper files for the period since every application appears on the PTO PAIR Image File Wrapper. Does anyone know what date the PTO began imaging every application filed? I know for a while they were going back and imaging some files, but not all. I want to know after what date we can be confident that the image file wrapper is in PAIR.
In this blog post I will try to answer the "what date" question and I will offer a thought or two about how a practitioner might decide which files can be destroyed.
The practitioner's question broadly stated, if I understand it, is "how do we know which paper files we can discard?"
And then it seems the practitioner is trying to rephrase this question as "is there a simple rule tied to the filing date that I can give to my staff so that they know which paper files we can discard?"
So there is some history here.  The first cases to get into IFW were in a handful of biotech art units.  This was around 2003 IIRC.
Later, gradually, it penetrated through most art units.  But not in a consistent way.  For example the US-national-phase cases got imaged last.  So in a given art unit on a given date you might see that all of the 111a cases had been imaged and none of the 371 cases had yet been imaged.
One of the straggler areas was reissue.  It took a long time for the reissue cases to get dragged kicking and screaming into IFW.
The design cases also took extra long to find their way into IFW.
I would not be a bit surprised if toward the end there were also a few Hyatt submarine cases from long ago that had never been imaged.
I surfed around in PAIR to pick out a few dates.  The oldest case that our firm has in PAIR is in Series Code 6.  It was filed in May of 1984 and its location is that it is in the Franconia archive (which means it is not in IFW).  I worked my way up to Series Code 10 (filing dates as long ago as about 2002) and some are electronic and some are in Franconia.  By Series Code 11 (filing dates as long ago as about 2005) it looks like all or nearly all are electronic.
Series Code 29 (design) dates from as long ago as 1995.  It looks like starting in around 2006, the "29" cases were pretty consistently getting imaged.
So if you were to set a goal of using a filing date as the way to know whether or not a case is in IFW, I suppose the "safe" date might be around 2006.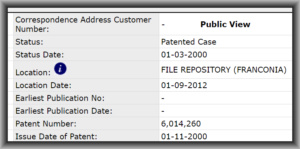 But it seems to me that if you want to give a simple rule to your staff, so that as they work though your old paper files, they know whether to throw them into the "these are in IFW" stack and the "these are not in IFW" stack, I don't think filing date is the way to go.  Indeed I don't think any date-based rule is the way to go.  The way to go, I suggest, is to just have a computer opened to PAIR.  Plug in the application number and look at the "location" field.  If the "location" is "electronic" then it is in IFW.  If the "location" is not "electronic" then it is not.  (Generally if it says something other than "electronic" then what it will say is "Franconia archive" as quoted above.)
But it also seems to me that the "is it in IFW?" question is not really a good way to decide which files to preserve and which to discard.  The thing is, if the file is not in IFW, you can say two things about it:
You can say that it is in the Franconia archive, meaning that if you ever feel the need to do it, you can simply order up a copy of the file from the Office of Public Records.  Yes it will cost $250 but you might only order up one such file wrapper ever in the years to come.   Or two.  But not twenty or a hundred.
You can say that it is a really old file by now.  Maybe it was filed 12 years ago, or maybe 15 years ago.  The chances that you will ever feel that you need to reconstruct that file get smaller and smaller as the file gets older and older.
I suggest that to the extent you are looking for some situation at the USPTO that would allow you to give yourself permission to discard a paper file, the situation would not be "it is in IFW?" but rather "it is in IFW or I could order up a file wrapper?".  And the latter question may be answered "yes" for all of the US patent files that the practitioner is considering destroying.
The other thing of course is that particular states may have their own ethical rules that require an attorney to preserve a file for some number of years.  The Colorado rule, for example, (oversimplifying) is that so far as the State of Colorado is concerned, you can destroy a file thirty days after you tell the client you are planning to destroy it (unless the client objects or unless there is a relevant threatened or pending proceeding).  If you don't feel like giving such notice to the client, you can destroy it ten years after the matter was closed (unless there is a relevant threatened or pending proceeding) unless for some reason you promised the client that you would preserve the file for a longer time.
How do you decide which old files you can destroy and which old files must be preserved?  Please post a comment below.