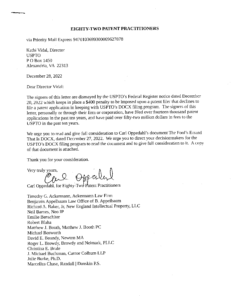 Hello readers.  You will recall (blog article of December 27, 2022) that the practitioner community was invited to sign a letter to USPTO Director Vidal.  The letter urged her to read the document entitled The Fool's Errand That Is DOCX, dated December 27, 2022, and the letter urged her to direct her underlings to read that document.
I am honored to be part of a community of eighty-two patent practitioners who signed that letter to Director Vidal.
This blog article reports that the letter did get sent to the USPTO.  You can see the letter, which is dated December 28, 2022, here.  The USPTO did receive the letter.
The next day, the USPTO blinked and postponed for another three months one of the really bad parts of its DOCX initiative.  See Setting and Adjusting Patent Fees During Fiscal Year 2020, 87 Federal Register 80073, published December 29, 2022.
There is reason to think that the USPTO is moving, albeit slowly, toward yet another bit of progress away from really bad parts of its DOCX initiative, in addition to that blink on December 29, 2022.  I hope to write another blog article soon about what might be another bit of progress.
Please take a look at the names of the eighty-two signers.  Maybe you know some of them.  If so, this might be a good time to say "thank you" to them.