In the old days a consumer product might have dozens of moving parts.  It was easy to think of ways that the equipment might fail.  Any of the moving parts might break or otherwise contribute to failure.  But nowad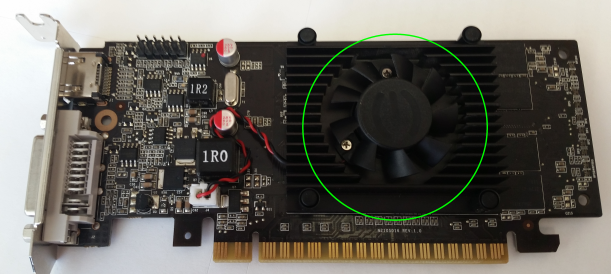 ays a piece of electronic equipment might have very few moving parts or maybe no moving parts.  How can such things fail?  What is a typical failure mode these days?  I have recently come to appreciate that nowadays, for some consumer electronic devices maybe the most common failure mode is the only moving part, namely a cooling fan.
Shown in the photograph is a video card from a computer in our office.  It has no moving parts, other than the cooling fan (in the green circle).  In recent weeks, the computer had been a bit flaky.  Sometimes the screen display would act up.  Not right away when the computer is turned on.  Only after a while would it act up.  Eventually we figured out the explanation.  The cooling fan had seized up.  The bearings were shot and the fan did not rotate any more.  So the card would heat up and eventually it would stop working.  Later when the computer cooled down it would work normally again for a while.  The other day, we replaced this card.  It was not easy to find a video card that did not have a cooling fan, but eventually we found one.
Which is only the latest in a series of consumer electronic devices that have had their cooling fans fail on me.  As a couple of examples:
A DirecTV digital video recorder.  The cooling fan was getting noisier and noisier.  The noise was a warning signal of imminent bearing failure, of course.  Not only that, the DVR also occasionally flashed a warning message on the screen, saying that the CPU was getting hotter than usual.  By some good luck I happened to have a spare DVR with a working fan in it, and I swapped it with the noisy fan.  Now hopefully the replacement fan will last a while.
A power inverter.  This is one of those things that plugs into the cigarette lighter socket in the car, and it receives 12 volts DC from the car, and it gives you 120 volts AC.  And just the other day this power inverter started acting up.  When it was powered up, if it was oriented in a particular way the cooling fan would be very noisy.  Again a warning signal of imminent bearing failure.  Time to get a new power inverter.
One of our firm's main RAID servers (see "Picking a hard drive for your RAID system") has a feature that monitors the rotation speed of the cooling fan.  If ever the fan were to slow down, we would receive warning email messages from the server.  Hopefully this would provide early warning and would give us some time to think about what to do.
Unfortunately it would not be a realistic goal to try to keep enough spare cooling fans around to be prepared for all failures.  The cooling fans are of varying sizes and shapes.  The mounting holes might be different from one to the next.  Some of them (like the one in the photograph) are integrated with a heat sink.  I think one simply has to hope that one may be lucky and that most cooling fans will have a fairly good service life.
Which then leads to the endless debate among tech geeks.  Is it better to leave things going 24 hours a day?  Or is it better to turn them off every night and turn them back on every morning?  Some people figure that if the device is left on all the time, it will wear out sooner.  Other people (me included) figure that one of the evils to guard against is expansion and contraction as things get hot or cool.  Every time a device is turned off for the night, the result is that all of the parts contract.  Next morning they all expand.
What do you think?  Leave it on all the time?  Turn it off every night?  Time to post a comment.