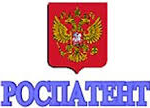 For a US filer who is filing a PCT application and who is picking the Russian patent office, the search fee will increase on May 1, 2017.  The search fee, presently $449, will increase to $482.
If you rank ISAs in order by the size of the search fees, the Russian patent office will still be the least expensive searching authority available to US filers after May 1, just as it is now.
The formal name of the Russian patent office is Federal Service for Intellectual Property but the nickname is Rospatent.  Which gives us an opportunity to brush up on our knowledge Cyrillic.  As you can see in the logo at the upper right, in Cyrillic the "P" is what we English speakers would voice as an "r".  The "C" is what we would voice as an "s".  The Π (like a Greek letter π) is what we would voice as a "p".  And the "H" is what we would voice as an "n".
Which brings me to a fun old classic mystery movie in which this Cyrillic H played a part.  In the movie, a handkerchief is found with an "H" embroidered on it.  This implicates a person whose name is pronounced starting with an "h".  But a clever person in the movie realizes that the "H" might be sounded as an "n", implicating a person with a Russian name.
The first person to post a comment identifying this movie will win a super spiffy digital voltmeter from Oppedahl Patent Law Firm LLC.