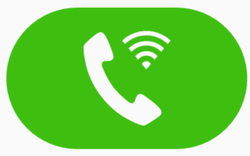 Today's blog article is a "tech" article and it is a "trademarks" article. The main point of this blog article is that probably you should activate "wifi calling" on your mobile phone, if you have not already done so.
For most mobile telephone customers in the US, wifi calling has only been available for a few months. So a reader of this blog may be forgiven for having failed to activate this service before now.
What is wifi calling?
With wifi calling, your mobile phone sometimes uses a wifi connection to complete a voice telephone call rather than using a conventional cell tower connection.  You can read a technical explanation of the technology, called GAN (generic access network) and UMA (unlicensed mobile access) here.
Wifi calling is a service provided by your mobile phone carrier (for example, AT&T, Verizon, Sprint, or T-Mobile in the US).  My mobile phone is served by AT&T.  AT&T started offering wifi calling in about August of 2016, although I did not pay attention to this development until just a couple of days ago.  When I learned about wifi calling a couple of days ago, I went to my phone and clicked around in the settings.  There was supposed to be a place where I could check a box and my phone would work with wifi calling.  The check box was not there.  AT&T had to "push" an update of my phone's firmware to my phone, and then the check box became visible.  I checked the box.  Now I can use wifi calling.
To test it, I went to a geographic location nearby to my home where I already knew that AT&T fails to provide usable cell coverage and where I could connect t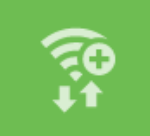 o a wifi network.  I connected to the wifi.  At the top of the screen there was the usual icon telling me that I was connected to wifi, except it looked a little different (see at right).  There was a little "plus" sign in the icon.
I then dialed a telephone number on my phone.  There was the usual green button for me to push to connect the call, except that it looked a little different because there was a sort of wifi icon next to the image of the telephone handset.  (See the screen shot at the top of this article.)
The call went through as normal, to a friend.  I asked the friend to call me back.  My friend called me back, and the call came in as normal.  Importantly, none of this was taking place over a cell tower.  And, importantly, nothing about the way that I placed or received the phone calls was different from how it had been if I had been using a cell tower.
Let's talk for a moment about how wifi calling might be very helpful to you.
Suppose that in your own home, your mobile phone carrier has only sketchy cellular coverage.  Then wifi calling could give you five bars of signal strength all through your home, using the wifi connections in your home.
The same would be true when you are visiting at your friend's home where your mobile phone carrier has only sketchy cellular coverage.
But now let's turn to one of the things that I said at the beginning of this article.  This article is not only a tech article but is also a trademark article.  How, the patient reader might ask, is this a trademark article?
The answer relates to the upcoming INTA meeting in Barcelona.  (You know, the INTA gathering where you will attend the MTB XIII reception on May 22 and the Seventh Annual E-Trademarks listserv reception on May 23.)  While you are in Barcelona, what will you do with your mobile phone?  Will you use the roaming feature of your mobile service in which your American mobile carrier charges you $2.50 per minute for phone calls?  Will you purchase a Spanish prepaid SIM card and use a Spanish telephone number during the time you are in Barcelona?
Or will you use wifi calling?
There are many handy things about wifi calling when you are traveling outside of the US.
Free calling.  The main thing of course is that it's free.  If you already have unlimited calling minutes in the US for calling US telephone numbers, you will be able to use wifi calling in Barcelona to call US telephone numbers and it will still be free.  Your US friends will be able to call you, and it will be free just as it would have been if you were receiving the call from within the US.  (You'll want to check this with your mobile carrier but as far as I know, they all offer this service free of charge.)
Same phone number A.  Your US friends who might want to call you on your cell phone while you are in Barcelona will just dial the same phone number they would have used to call you when you are in the US.  If you are connected to wifi at the time that they call, your phone will ring as usual and you can answer it and you can speak with your US friends.  (Otherwise the call will go to voice mail as usual.)
Same phone number B.  You might want to call your US friends while you are in Barcelona.  You simply connect to wifi and dial your friend's telephone number just the way you would have dialed it if you were in the US.  On your friend's phone, your call will display with your phone number on the caller ID, just as usual.
On my phone (an Android phone running Marshmallow) I can selectively turn various communications paths on and off.  So for example I can turn on airplane mode which would normally cut off all communications paths.  And then I can turn wifi back on.  In this way I will avoid having to pay $2.50 per minute to receive calls from the US, and I will avoid having to pay $1 per text message to receive text messages from the US.  I will then try to connect to wifi networks whenever I wish to send or receive text messages, or place or receive telephone calls.
Of course I will also be running Whatsapp and Wechat and Line and Viber, so I will have free messaging and free phone calls to all of my non-US friends.  And don't forget that Whatsapp offers end-to-end encryption and so cannot be eavesdropped upon by anybody along the way.  I will only be using wifi calling for the friends who are not already on Whatsapp.
Have you activated wifi calling on your mobile phone?  Has it helped you by providing a clear call in a place where your mobile carrier has spotty or nonexistent cell coverage?  Has it saved you money during international travel?  Has your carrier confirmed to you that it's free of charge?  Please post a comment below.
FAQ pages of some US mobile service providers explaining wifi calling: