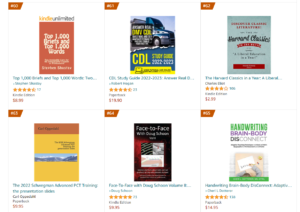 Amazon maintains sales statistics on every large or small thing that a person could possibly want to know about its book sales. My newly released book The 2022 Schwegman Advanced PCT Training: the presentation slides has apparently just now reached a ranking of number 63 in Amazon's category of adult and continuing education. As you can see in the screen shot at right, this book trails two positions below a study guide for a commercial drivers license test.
I think that this tells you not so much about a large number of copies of my book being purchased, but instead about the relatively small number of books that people purchase that fall within this category of adult and continuing education.
For context, Amazon says that among books generally, my newly released book has a "best sellers" ranking in position 112,026.