These days, the way to go if you are picking a new telephone system is a system based upon Asterisk, which is open-source software providing a PBX for SIP telephones service. If you have a legacy telephone system, it may make sense to retire the legacy system and to move to a SIP-based system. I will explain.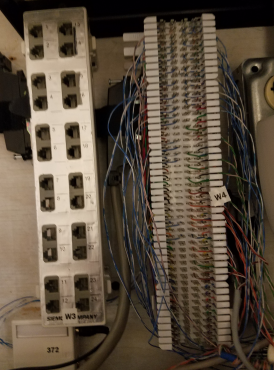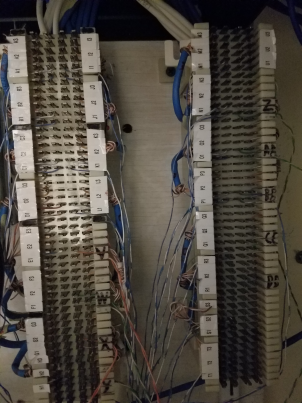 Let's start by describing a typical legacy telephone system. The legacy system shown in the photographs was purchased around a decade ago. At the time, it was state-of-the-art. There is was a main chassis, a set of punch-down blocks for cross-connecting to analog trunks from the landline telephone company and to extensions, and a set of punch-down blocks for connecting to telephone extensions. The main chassis contains a motherboard and nine plug-in cards. The motherboard supports eight local telephone extensions. The plug-in cards shown in the photograph include:
main processor
voicemail system
card to connect to six analog telephone company telephone lines
card to support six remote voice-over-IP phones (not SIP)
card to connect two local analog devices (for example fax machines)
cards to connect sixteen more local telephone extensions
card to support music-on-hold (from an external source) and to receive caller ID information from the six analog telephone lines
An external box, not shown, provided the music-on-hold signals. Also shown at the top of the "chassis" photograph is a shelf holding a bunch of external batteries to keep the PBX running in the event of power failure. To the lower left in the chassis is an internal power supply. As you can see in the second and third photographs, the wall space for mounting of this PBX also required four punch-down blocks for cross connections to telephone company lines and to extension phones.
Had we chosen to spend even more money, we might have purchased and installed a very expensive plug-in card to connect to a PRI trunk from the local telephone company. A PRI trunk (Primary Rate Interface, a kind of ISDN) brings in something like 24 telephone lines from the local telephone company, including DID (direct inward dialing) signaling. As I recall this PBX cost some $8000 back in 2007. The individual telephone extensions were another $300 or so each.
Our four analog telephone lines were costing something like $150 to $220 per month (see blog article). If we had made use of PRI for our telephone lines, the monthly bill would have been something like $1000 per month. This would have permitted DID lines (Direct Inward Dialing). The PRI card for the telephone system would have cost something like $500.
Over the years this PBX had served us wonderfully. But it was getting more and more difficult to get spare parts. We found it necessary to keep spare power supplies around in case of failure of the main power supply. Configuration changes were not easy — special software had to be used.
So a variety of factors prompted us to consider migrating to a new telephone system:
Migration to a new PBX would facilitate the move from analog telephone landlines to SIP lines, saving some $160 per month
The SIP lines would make it easy and inexpensive to add DID (direct inward dialing) functionality
The new PBX would permit use of SIP phones which are less expensive and more feature-rich than the legacy (ISDN) phones
For telecommuting or work-from-home employees the SIP phones can be easily used at home just as in the office
With SIP extensions, it is easy to ring an extension call in multiple locations simultaneously and the employee can answer at any of the locations.
A SIP PBX permits us to host our own firm-branded telephone conference bridges.
The configuration of modern PBX is by means of a convenient web-based administrative user interface instead of fiddly proprietary software.
A SIP PBX makes it easy and inexpensive to bring in DID (direct inward dialing) lines from foreign countries.
A SIP system can be implemented entirely by means of the ordinary ethernet wiring that is already in place for other equipment such as printers and desktop computers. This saves us from having to use punch-down blocks like the ones in the photographs above.
Many SIP phones are able to be powered using power over ethernet (POE) which saves having to use AC adapters to power the extensions.
Normally the smart way to go is "if it ain't broke, don't fix it." But these are all factors that prompted us to consider purchasing and installing a new telephone system even though our legacy telephone system was working just fine. Of course a reader of this blog article might be someone who does not already have a legacy telephone system. Such a reader is starting from nothing, as it were. For such a reader my unequivocal advice is to pick a SIP PBX and use SIP phones.
Having arrived at a decision to purchase and install a SIP telephone system, which system should we pick? I will describe some of the decision and selection process.
With a bit of digging, one can eventually come to learn that all SIP telephone systems are essentially the same system. They all run on open-source software called Asterisk. The Asterisk system, being open-source, has a vibrant user community. There are approximately five ways to use an Asterisk PBX:
pay money to rent a cloud-based Asterisk PBX
use a free-of-charge Asterisk PBX provided by a VOIP (SIP) provider of DID telephone lines
build a Linux server and install Asterisk on it
rent a cloud-based Linux server and install Asterisk on it
purchase a physical Asterisk server and plug it in at your own premises
Path 1 has the advantage that someone who's not you is managing and setting up the system. Companies that provide Path 1 often bundle the rental of the cloud-based PBX with rental of the extension telephones. A typical monthly cost is around $20 per telephone extension and the service provider will often ask that you sign a two-year contract.
Path 2 is fascinating to consider. If you make use of a VOIP (SIP) provider of DID telephone lines (for example Voip.ms as I blogged here), they will permit you to use their own cloud-based Asterisk PBX at no additional charge. You can construct a fully featured telephone system, including voice mail, IVRs, ring groups, simultaneous ringing at multiple locations, and sophisticated call routing and forwarding, all for free. Well, not completely free. You have to spend 85¢ for an incoming telephone line. Other than that, it is completely free.
Path 3 is the traditional nerd-based solution for an Asterisk PBX. Sophisticated Linux users can carry out path 3 and it works very well. It is inexpensive and it is robust. But for someone with only limited Linux expertise, Path 3 could be a bit daunting. You need to worry about keeping your version of Linux up to date, for example, with the latest security patches.
Path 4 is also a workable nerd-based solution. If you pick a reliable provider of cloud-based Linux servers, it can be inexpensive and robust. Someone who's not you will be keeping the Linux servers up to date and well patched.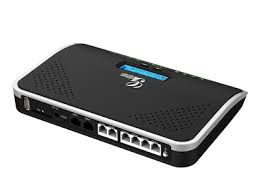 Path 5 is the path that we selected. We picked a Grandstream UCM6104 PBX (shown in the photograph). It cost $300. It is slightly bigger than a VHS videocassette. It provides a complete Asterisk PBX. The maker (Grandstream) provides a web-based user interface that shields the user from having to learn Linux and shields the user from having to learn how to set up and configure an Asterisk system. Using the web-based UI, we can install SIP trunks, configure call routing, create telephone extension numbers, connect local and remote SIP telephones, construct IVRs, build conference bridges, and much more.
With this PBX there is no contract to sign, and no monthly cost. We spent the $300 up front to purchase it, and then we spent the money to buy the extension phones. And that's it in terms of cost.
I will acknowledge that there was a bit of a learning curve to learn how to configure the SIP phones and the SIP PBX. But by now we have three people in the firm who know how to make adds and changes to the system, and we do not need any outside consultant or any monthly recurring charge other than the 85¢ for our main telephone number.
The physical installation was easy. We used our existing ethernet (LAN) wiring. We used a POE ethernet switch so that the extension phones could be powered over the network. The PBX works with any and all makes and models of SIP phones, but if you happen to use Grandstream extension phones the configuration is particularly easy.
In followup articles I will describe some of the really neat user features that we have implemented. These include:
Firm-branded telephone conference bridges for up to 25 participants each
Direct inward dialing for local telephone numbers in foreign countries
Cutting our monthly telephone bill from around $160 to around 85¢
Easy provision of office telephone extensions at work-from-home locations
Have you migrated to a SIP PBX? How did it go for you? Please post a comment below.