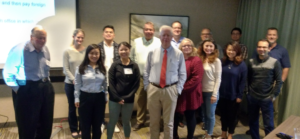 The Patent Cooperation Treaty seminar which took place in Silicon Valley on October 16-18, 2018 went well, I think.  I enjoyed it and I think the attendees enjoyed it as well.
This group photograph was taken on the last day, after a few people had already departed for the airport, so it does not show all of the attendees.
Here are some comments on this seminar from evaluation forms from the attendees:
"Great seminar, with great speaker that has a great sense of humor!"
"Carl has got to be the most knowledgeable teaching attorney in PCT in the country.  He also shares his own personal experience, which is priceless!"
"Carl is a gentle, generous, funny and brilliant man!"
"Priceless material that you cannot get from other sources."
"Material was very well covered."
"This seminar was fairly long but Carl was able to keep a good flow going with his anecdotes and interesting tips and scenarios."
"Carl is very thorough and is willing to explain."
In what cities should we host the next couple of PCT seminars?  Post a comment below with your suggestions.