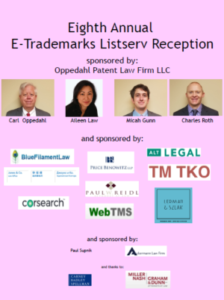 As a reminder you are invited to two receptions this week in Seattle! 
Monday evening is the Eighth Annual E-Trademarks listserv reception, which honors the collegial community which is the E-Trademarks listserv.
Tuesday evening is the Fourteenth Annual Meet the Bloggers.  Attend this reception to mingle with some of the best and the brightest in the trademark community, and also say hello to the bloggers!