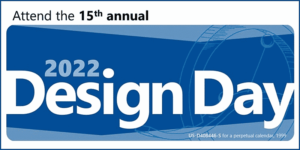 It is now possible to register for USPTO's Design Day 2022. This is the fifteenth annual Design Day and it will take place on Thursday, April 21, 2022. (You will recall that on February 5, 2022 and again on March 2, 2022, (blog article and blog article) I told you to save the date.) This will be a virtual event, not in-person. This event is free of charge.
Design Day 2022 has three parts:
an optional introductory session running from 11AM to Noon Eastern Time, entitled Introduction to Design Law: The basics of design patents, trade dress and copyrights, presented by Perry Saidman, a long-time design law practitioner.
the main event, running from 1PM to 4:30 PM Eastern Time (details below).
an optional networking opportunity, running from 4:30PM to 5:30PM Eastern Time.
The main event features:
Welcome and Kick-off from Kathi Vidal, Under Secretary of Commerce for Intellectual Property and Director of the United States Patent and Trademark Office.
An update from the Director of Technology Center 2900, Karen Young.
International Update: China's Accession to Hague, WIPO, ID5, and more, from Gordon Klancnik, Patent Attorney, USPTO's Office of Policy and International Affairs (OPIA).
Hear from a panel of international experts on the ramifications of China joining the Hague for both practitioners and examiners.
Practice tips from Administrative Patent Judge Jill Hill regarding proceedings before the Patent Trial and Appeal Board (PTAB).
Case law summarizing the most important design patent decisions over the past year from the United States Court of Appeals for the Federal Circuit, the district courts, and the PTAB.
For more information, and to register, click here.