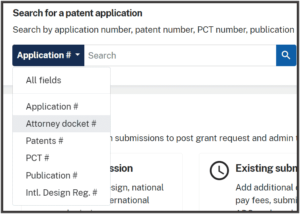 (Update:  an alert reader has discovered an undocumented feature of Patentcenter that takes a step in the direction of fixing trouble ticket CP12.  See blog article.)
The USPTO people are probably going to say that in the March 17, 2023 version of Patentcenter, they think they have fixed trouble ticket CP12.  But they have not fixed trouble ticket CP12.
It is recalled that one of the USPTO's stated design goals for Patentcenter is that it will bring forward and replicate at least all of the features and functions of EFS-Web and Private PAIR.  Only after USPTO succeeds at this would it be appropriate to shut down EFS-Web or Private PAIR.

For most users of PAIR and Patentcenter, one of the most frequent recurring tasks is to search for a patent application by attorney docket number.  In PAIR this kind of search is on the front page of PAIR and is easy to find and is easy to do.  See the screen shot at right.
When the USPTO released Patentcenter for use, it was immediately evident that the "search by attorney docket number" had been tucked away in a page that was not the front page.  And it was much harder to find and use.
Alpha testers of Patentcenter pointed out this lapse in autumn of 2018 in USPTO's Ideascale.  It fell on deaf ears.  The problem got added to the trouble ticket list on April 30, 2020:
CP12 (deep link) – Search by attorney docket number needs to be just as easy as it is in Private PAIR.
I also detailed the lapse in this blog article on July 11, 2020.    A year passed and USPTO failed to correct this lapse at which time the lapse got posted to Ideascale as idea number 501.  This did not lead to any corrective action by the USPTO.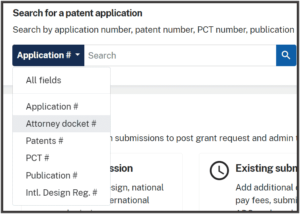 What Patentcenter users see is that in the March 17, 2023 version, the USPTO has made a sort of token effort to address CP12.  But as you can see if you try to use it, it is pretty much unusable.    The only way it works is if you somehow manage to hand-key the entire attorney docket number, character by character, all the way to the end of the docket number, without making any mistakes.  In general this is not humanly possible.  In our firm, docket numbers are usually twenty or so characters in length, with our file number and the foreign agent's (or client's) file number included in the character string.  There are punctuation marks and spaces in the file number.
What the USPTO failed to do, but should have done, in this March 17 version of Patentcenter, if it wished to address CP12, is, wait for it, replicate the function as it appears in PAIR.  This would at least include an option of "starts with".
So no, trouble ticket CP12 has not gotten cleared.